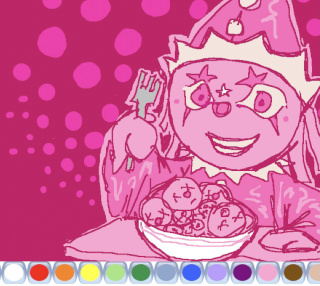 From the gallery: Untitled by Eben Turnover
Tux Paint is completely free software, released as "Open Source" software, under the provisions of the GNU General Public License (GPL), version 2. This means you may download it and install it on as many machines as you wish, copy it for friends and family, and give it to your local schools. In fact, we encourage this!
Tux Paint se ejecuta en la mayoría de los sistemas, pero revise los Requerimientos si no está seguro que su sistema pueda soportarlo.
noviembre 27, 2022
- Tux Paint 0.9.28 has been rebuilt for 64-bit Windows, to address a bug in the Text and Label tools that affected Windows 11 with 22H2 Update applied.
Download 0.9.28-2 for Windows.
---
Current Version (0.9.28):
View announcement and access the 'change logs' to learn what's new in this version.
Microsoft Windows
Windows 11, 10, 8, 7, Vista

Users of Microsoft Windows 11, Windows 10, Windows 8, Windows 7, Windows Vista can download and run this simple installer application to get the full version of Tux Paint.
(A stand-alone ZIP-file version, also known as a "Portable" version, is available, as well.)
Apple macOS
macOS

Apple Macintosh owners running macOS 10.10 and later can download Tux Paint here.
Android
Android

Android phone and tablet users can download Tux Paint, or install it from the F-Droid software repository.
Linux
Linux Distribution Packages

Los usuarios de Ubuntu pueden descargar paquetes precompilados de Tux Paint para su liberación y la arquitectura de Launchpad."
Users of Fedora and various Enterprise Linux platforms can download pre-compiled Tux Paint packages for their release and architecture from Fedora Package Sources
Debian users can simply download pre-compiled Tux Paint packages for their release and architecture from their preferred Debian archive mirror.
Users of RedHat and Fedora Linux distributions can download Tux Paint for i686 and x86_64 in RPM format.
Slackware users can download Tux Paint packages via SlackBuild.org.

Distribution-agnostic Packages

Users of a variety of Linux distributions can install Tux Paint via Flatpak, a framework for distributing desktop applications.
BSD
Paquetes FreeBSD

Los usuarios de FreeBSD pueden aprender sobre el soporte de Tux Paint en FreeBSD.
Haiku
Haiku

Haiku users can download Tux Paint directly, or via Haiku Depot.
---
Previous Version (0.9.27):
Linux
Linux Distribution Packages

openSUSE Linux Packages

openSUSE users can download pre-compiled Tux Paint packages for their release and architecture from software.opensuse.org.
Earlier versions of Tux Paint are available for other platforms and OSes not listed here. Visit the "Download Older Versions" page to access them.
---
Other Downloads:
Código Fuente

Otros usuarios de Linux y Unix se pueden descargar el código fuente para compilar e instalar Tux Paint. (Developers can get the latest from the Git source-code repository.)

Fuentes

Los usuarios de Tux Paint que utilicen idiomas que requieren sus propias fuentes puede descargar preenpaquetados de ​​fuentes TrueType para Tux Paint.
---
---
¿Sabía usted? Su escuela puede instalar Tux Paint en todas sus computadoras ... Hoy, sin costo alguno!