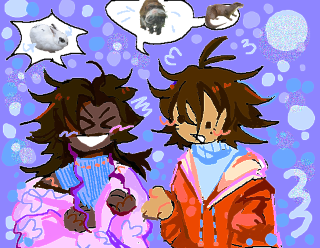 From the gallery: Comms in Tux Paint by serena
Tux Paint is easy to use, includes countless fun effects, and provides many configuration options.
Multi-Platform
Tux Paint works on macOS (10.10 Yosemite and up), Windows (Windows 7 through Windows 11), Linux, Android, and other systems. An unofficial Apple iOS (iPhone/iPad) version is also available.
Simple Interface
A number of useful drawing tools are made available. (See Drawing Tools, below.)
The drawing canvas is a fixed size, so the user doesn't need to worry about 'pixels' or 'inches' when making a new picture.
The entire program fits on a screen as small as 640x480, and can be displayed full-screen, to hide the computer's underlying 'desktop' interface. (It defaults to 800x600 mode, but can run at larger sizes and in portrait or landscape mode, as well.)
Loading and saving of images is done using thumbnails, so no knowledge of the underlying operating system's filesystem structure is needed. Even filenames are unnecessary.
Images can be exported from Tux Paint (e.g., to your "Pictures" folder).
Entertaining Interface
Fun sound effects are played when tools are selected and used.
A cartoon version of Tux, the Linux penguin, appears at the bottom to give tips, hints and information.
Drawing Tools
Paint brush

Various brushes available
Parents/teachers can add more brushes
Brushes can be animated
Brushes can change shape depending on the direction they're drawn
Brushes can point the direction that's being drawn
Brush spacing can be adjusted
Alternate color palettes can be created and used
Color picker, for choosing colors from a drawing
Keyboard shortcut for quickly invoking the color picker
Color mixer, for combining primary colors together

Rubber stamp

Hundreds of photographic and cartoon stamps images are available
Parents/teachers can add more stamps and create categories
Stamps can have descriptive text and sound samples (names, facts, etc.) and/or sound effects assigned to them
Stamps can be resized, flipped and mirrored
Rotate stamps 🐻
Raster bitmaps (Portable Network Graphics ("PNG")) with full-color and alpha transparency (32bpp RGBA) supported
Vector graphics (Scalable Vector Graphics ("SVG")) supported

Line tool

Uses Paint Brush's brushes
'Rubberband' shows where the line will be drawn as you move the mouse

Fill

'Flood-fill' an area with a particular color
Fill an area with a solid color
Fill an area with a radial gradient
Fill an area with a shaped gradient
Interactively fill an area with a linear gradient
Interactively fill an area with a solid color using freehand brushstrokes

Shape tool
Text and Label tools

Tux Paint ships with a variety of fonts
Parents/teachers can add more fonts
Bold and italic style supported; text size can be changed
Supports numerous languages (See International Character Input, below)
Labels may be moved and edited later

'Magic' (special effects) feature, with over 90 tools!

Distorts

Blocks - turn parts of the picture 'blocky'
Blur - blur parts of the picture using the mouse
Chalk - make parts of the picture look like a chalk drawing
Circles - turn your picture into circular brush strokes
Clone - clone parts of the picture; copy by painting
Distortion - slightly alters the position of the picture under the brush
Drip - make parts of the picture look like it's dripping away
Edges - outline the edges of shapes in your picture
Emboss - gives the image's edges highlights and shadows
Fisheye - view parts of your picture through a fish-eye lense
Glass Tile - see your drawing through glass tiles
Halftone - turn your picture into newsprint
Mosaic - make your picture into a mosaic of colors
Hexagon Mosaic - create a pattern of hexagons
Irregular Mosaic - turn your picture into a mosaic of shards
Square Mosaic - create a pattern of squares
Noise - add random noise to your picture
Puzzle - shift parts of your picture around like it's a sliding puzzle
Rays - turn your picture into linear brush strokes
Ripples - rippled waves over your image
Sharpen - sharpen the focus of the picture
Silhouette - turn parts of your picture into a silhouette
Smudge - push the colors around as though smudging wet paint
TV - make your picture look like it's on a television

Color Filters

3D Glasses - separate red/cyan, to create anaglyphic viewable with 3D glasses
Bloom - add a glowing "bloom" effect
Cartoon - make parts of the picture look like a cartoon
Color Sep. - separate color channels
Color Shift - Jumble the colors of the picture
Color & White - turn the picture monotone
Darken - darken the colors of parts of the picture
Desaturate - reduce color saturation of parts of the picture
Double Vision - simulate double vision
Keep Color - desaturate of parts of the picture that don't matching a chosen color
Lighten - fade the colors of parts of the picture
Negative - invert the colors of parts of the picture
Opposite - swap colors in the picture with their complementary colors
Remove Color - desaturate of parts of the picture that match a chosen color
Saturate - increase color saturation of parts of the picture
Tint - change the color of parts of the picture
Xor colors - colors based on the position drawn on the picture

Picture Warps

Flip - flip the image vertically
Fold - fold down the corners of your picture
Kaleido-4, Kaleido-6, & Kaleido-8 - view your drawing through a kaleidoscope
Mirror - flip the image horizontally
Panels - divide and duplicate your drawing into a 2x2 grid
Perspective - bend your picture to view it from different perspectives
Reflection - create a reflection of part of your picture
Rush - zoom your entire picture in or out, blurring the results
Shift - move the entire picture around
Stretch - stretch and squash parts of the picture
Tile Zoom - zoom your entire picture in or out, tiling the results when scaling down
Waves - wiggle your picture side to side
Wavelets - wiggle your picture up and down
Zoom - zoom your entire picture in or out

Painting

Bricks - paint realistic large or small brick patterns
Calligraphy - a smooth brush that changes thickness depending on how quickly you stroke
Confetti - Throw confetti over your picture
Foam - paints foamy bubbles that grow as you move the mouse
Fretwork - draw an interlaced decorative design that looks like wooden fretwork
Fur - add fur to your drawing
Grass - paint realistic clumps of grass on the screen and into the distance
Light - draw beams of bright light on your picture
Loops - draw circular loop-the-loops (New in 0.9.31)
Maze - draw randomly-generated maze patterns on your picture
Metal Paint - paints shiny metallic colors
Pixels - draw 'pixel art' with Tux Paint
Rails - draw connecting train tracks
Rain - add raindrops to your picture
Rainbow - draw using a brush that paints in all colors in the rainbow
Ribbon - draw a flowing ribbon (New in 0.9.31)
Smooth - draw in freehand; when you let go, the shape will be smoothed (New in 0.9.31)
Smooth Rainbow - draw using a brush that smoothly paints in all colors in the rainbow
Squiggles - draw squiggly shapes (New in 0.9.31)
Toothpaste - paint with colorful gel
Wet Paint - draw with wet, smudgy paint

Pattern Painting

Kaleidoscope - four symmetric brushes
Pattern - draws a tiled pattern around the picture
Picasso - a triplet of brushes that paint in unison
Rosette - three brushes that draw in a rosette pattern
Symmetry Left/Right - paint with reflective symmetry across the horizontal center of the image
Symmetry Up/Down - paint with reflective symmetry across the vertical center of the image
Tiles - Draws a symettric pattern around the picture

Picture Decorations

Blind - pull window blinds down, or across, the picture
Checkerboard - fill the picture with a checkerboard pattern
Snow Ball - cover your picture in snowballs
Snow Flake - cover your picture in snowflakes

Artistic

Flower - draws curvy-stalked flowers
Googly Eyes - add googly eyes to your picture
Lightning - draw lightning bolts on your picture
Real Rainbow - draw a colorful arc based on a real photo of a rainbow
ROYGBIV Rainbow - draw a rainbow arc of seven solid colors
String V - draw V-shaped string art
String corner - draw string art
String edges - draw string art around the edges of your picture
Tornado - add a tornado funnel to your picture

Many magic tools offer multiple size options (New in 0.9.30)
... plus, programmers can easily and quickly create new 'Magic' tools using a plug-in interface!

Eraser

Keyboard shortcut for quickly accessing a small eraser

Undo

Multiple levels of undo
Undo actions can themselves be undone with the 'Redo' button
Commands
New

Create a new drawing with a blank canvas, a pre-drawn backdrop, or a coloring-book-style outline

Save

Save a picture to the virtual 'picturebook'
One-click save: No file browser dialogs or filename prompts are used
If saving an opened picture, choose to save over it (like 'Save' in desktop programs), or save a new picture (like 'Save As')

Open

Open a previous drawing by selecting its thumbnail in a virtual 'picturebook'
Delete previously-saved pictures. On these platforms, images are moved to the 'Trash' or 'Recycle Bin': 🐻 (New in 0.9.31)
Option allows reversing order of images in the Open dialog

Slides

View a slideshow of multiple saved drawings
Control the speed of playback; create class presentations or simple looping animations
Go forward or back using the arrow keys or mouse
Slideshows can be exported from Tux Paint as animated GIFs, for sharing on the Internet

Starters

Various coloring-book-style images included
Photographic scenes included, with foreground and background elements that you draw in between
Vector graphics (Scalable Vector Graphics ("SVG")) supported
Kid Pix templates ("KPX" files) supported

Templates

Photographic backgrounds that you can draw on; use the Eraser tool to reveal them
Turn your own pictures into a new Template right inside Tux Paint (New in 0.9.31)

Print

Print pictures on a printer
Translations
Parts of Tux Paint have currently been translated into the following languages: (129)
Acholi
Afrikaans
Akan
Albanian
Amharic
Arabic
Aragones
Armenian
Assamese
Asturian
Azerbaijani
Bambara
Basque
Belarusian
Bengali
Bodo
Bosnian
Breton
Bulgarian
Catalan
Chinese (Simplified)
Chinese (Traditional)
Croatian
Czech
Danish
Dogri
Dutch
English (Australian)
English (British)
English (Canadian)
English (South African)
English (USA)
Esperanto
Estonian
Faroese
Finnish
French
Fula
Gaelic (Irish)
Gaelic (Scottish)
Galician
Georgian
German
Greek
Gronings
Gujarati
Hebrew
Hindi
Hungarian
Icelandic
Indonesian
Inuktitut
Italian
Japanese
Kabyle
Kannada
Kashmiri (Devanagari)
Kashmiri (Perso-Arabic)
Khmer
Kiga
Kinyarwanda
Klingon
Konkani
Konkani (roman)
Korean

Korean
Kurdish
Latvian
Lithuanian
Luganda
Luxembourgish
Macedonian
Maithili
Malay
Malayalam
Manipuri (bengali)
Manipuri (meitei mayek)
Marathi
Miahuatlán Zapotec
Mongolian
Ndebele
Nepali
Northern Sotho
Norwegian Bokmål
Norwegian Nynorsk
Occitan
Odia
Ojibwe
Persian
Polish
Portuguese (Brazilian)
Portuguese (Portugal)
Punjabi
Romanian
Russian
Sanskrit
Santali (devanagari)
Santali (ol chiki)
Serbian (cyrillic)
Serbian (latin)
Shuswap
Sindhi
Sindhi (Devanagari)
Sinhala
Slovak
Slovenian
Songhay
Spanish (Mexican)
Spanish (Spanish)
Sundanese
Swahili
Swedish
Tagalog
Tamil
Telugu
Thai
Tibetan
Turkish
Twi
Ukrainian
Urdu
Valencian
Venda
Venetian
Vietnamese
Walloon
Welsh
Wolof
Xhosa
Zulu
(You can even help translate it to your favorite language.)
International Character Input
Enter text in different languages using the Text tool:
Latin languages - Spanish, French, Italian, Portuguese, etc.
Japanese - Romanized Hiragana and Romanized Katakana
Korean - Hangul Bul-2
Thai
Traditional Chinese
Accessibility
Tux Paint provides a number of optional accessibiltiy enhancements, to help make the program more suitable in some circumstances.
On-screen keyboard
Keyboard-driven mouse pointer control
Joystick-driven mouse pointer control
Deactivate stereo sound effects (mono-only mode)
Interface button size is adjustable
Interface font can be adjusted (great for using OpenDyslexic or Andika) (New in 0.9.31)
Parental and Teacher Controls
Run Tux Paint in full-screen mode, or have it 'grab' the mouse pointer, to prevent children from accidentally accessing other programs or files on the desktop.
Sound effects can be deactivated.
The Print and Quit options can be deactivated.
Alternatively, the Print option can be limited to allow only one print every n minutes.
By default, Tux Paint cannot be launched more than once every 30 seconds, to prevent multiple copies from being run accidentally, due to over-eager mouse clicking.
The directories/folders where Tux Paint saves and/or exports files may be changed. This can allow saving pictures in a student's home directory on a network drive or shared drive, rather than locally on one particular workstation.
Stamps, starters and brushes are stored using popular open formats (PNG, SVG, Ogg Vorbis, etc.) allowing parents and teachers to create their own content for use at home or in the classroom - even using completely free tools.
The 'Tux Paint Config.' program allows parents, teachers, and school technicians to alter Tux Paint's behaviour using a simple, easy-to-use graphical interface. (It's separate from Tux Paint, to prevent children from changing things.)
... and much more!
---
🐻 Feature may be deactivated, simplifying Tux Paint to increase accessibility.
---
---
Did you know? Penguins live almost exclusively in the southern hemisphere.