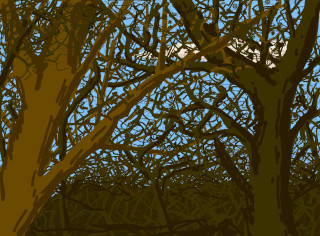 From the gallery: November Forest through a Library Window by KORG
Compatibility note: The current version of Tux Paint requires Android OS version 5 or later. Earlier versions of Tux Paint are available, which run on older versions of Android.
November 26, 2021
- Tux Paint 0.9.27 and Tux Paint Config. 0.0.18 have been released, and are available for Windows, macOS, Android, and Linux. Many updates have been made, including six new Magic tools, and Magic tool grouping.
Learn more about the latest Tux Paint!
---
Tux Paint for Android (APK package)

Tux Paint 0.9.27
org.tuxpaint_9270.apk
Version: 0.9.27
Date: November 25, 2021
Size: 26MB
From: Pere Pujal Carabantes
Tux Paint for Android (via F-Droid repository)
Tux Paint is available for Android devices in the F-Droid software repository ("app store"), a catalog of Free and Open Source Software. (You'll need to install F-Droid first.)

Tux Paint at F-Droid
Note: The latest version of Tux Paint (0.9.27) was not yet available in the F-Droid repository (as of November 28, 2021). Rather, an older version (0.9.26) is available through F-Droid.
Tux Paint Stamps for Android (APK packages)
Tux Paint Stamps for Android comes as a set of packages that you install, launch, and then may uninstall. The main package, "tuxpaint-stamps-images.apk" installs the stamp artwork, descriptive text that appears on the screen, and sound effects. A set of other, optional packages are available which install descriptive spoken sounds in various languages.
Note: Currently, on multi-user Android systems, each user who wishes to use stamps in Tux Paint must install the stamps themselves, which will of course utilize more space on the device.
Tux Paint Stamps — main package

Tux Paint Stamps 2021-06-28
tuxpaint-stamps-images.apk
Version: 2021-06-28
Date: August 7, 2021
Size: 35MB
From: Pere Pujal Carabantes
Tux Paint Stamps — localized descriptive speech
Please consider donating to:

---
---
Did you know? Adults enjoy Tux Paint, too!