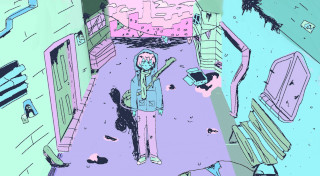 From the gallery: Beneath the Toxic Jungle (Rav album cover) by doha 65%
Tux Paint for Windows1 is available as an installer program, downloadable as an executable program (.exe) which you can double-click to begin the installation process.2
Tux Paint installer for Windows comes as two parts, the main program (plus the configuration program), and the optional add-on 'stamps' collection.
May 19, 2023
- Tux Paint 0.9.30 and friends
have been released
and are available for Microsoft Windows, Apple macOS, Android (direct download), Red Hat Linux, Haiku, Slackware Linux, various Linux distributions (via Flatpak).
(Updated May 24, 2023.)
---
---
1. Compatibility note: This version of Tux Paint is for modern Windows systems, including: Windows Vista, Windows 7, Windows 8, Windows 10, and Windows 11.
If you're using an older version of Windows, you can download an older version of Tux Paint for Windows XP/2000, or for for Windows 95/98/ME.
2. (If you would prefer not to install Tux Paint onto your Windows system, you can instead use the Tux Paint ZIP-file, which runs from within its own folder. This is also known as a "Portable" version.)
---
---
Did you know? Tux Paint runs right on your computer, and doesn't require Internet access.