Drawing program for kids adds an assortment of new features, launches new gallery
(Olympia, WA, USA — November 26, 2021) The Tux Paint development team is proud to announce version 0.9.27 of Tux Paint, which adds many new features to the popular children's drawing program.
New Ways to Draw
Tux Paint's Paint and Line tools now support brushes that rotate based on the angle of the stroke. This new rotation feature, as well as the older directional and animated brush features, are now visually indicated by the brush shape selector. Additionally, the Fill tool now offers a freehand painting mode for interactively coloring within a confined area.
Six new Magic tools have been added to Tux Paint. Panels shrinks and duplicates the drawing into a 2-by-2 grid, which is useful for making four-panel comics. Opposite produces complementary colors. Lightning interactively draws a lightning bolt. Reflection creates a lake-like reflection on the drawing. Stretch stretches and squashes the picture like a fun-house mirror. Lastly, Smooth Rainbow provides a more gradual variation of Tux Paint's classic Rainbow tool.
A number of existing Magic tools have been updated, as well. Improvements were made to Halftone, which simulates photographs on newsprint; Cartoon, which makes an image look like a cartoon drawing; and TV, which simulates a television screen. Additionally, Cartoon and Halftone, along with Blocks, Chalk, and Emboss, now offer the ability to alter the entire image at once!
Finally, Magic tools are now grouped into collections of similar effects — painting, distorts, color filters, picture warps, pattern painting, artistic, and picture decorations — making it easier to find the tool you need.
Other Updates
Tux Paint's user documentation has been updated. Documentation on the program's various settings have been reorganized, and instructions for manually compiling and installing Tux Paint from source code have been expanded. Also, the manual page provided for Unix and Unix-like systems now supports localization.
Tux Paint Config., the separate program that ships with Tux Paint to provide a user-friendly method of altering the program's settings, has been updated to better support larger, high-resolution displays.
Finally, this version introduces support for the Recycle Bin on Windows. Images deleted from Tux Paint's "Open" dialog will now be placed in the Recycle Bin rather than deleted immediately.
For a complete list of changes, see the project's various change logs: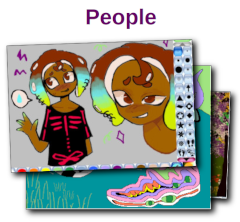 A New Gallery
The Tux Paint website now hosts a new gallery showcasing fantastic artwork created by Tux Paint artists of all ages. The gallery features over 200 drawings by artists from all around the world, some created almost 20 years ago!
A Free Download
Tux Paint is available for download, free of charge, from the project's website: https://tuxpaint.org/. Tux Paint is open source software and does not contain in-app advertising.
Version 0.9.27 is currently available for Microsoft Windows, Apple macOS, Android, Red Hat Linux, various Linux distributions (via Flatpak), and as source code.
For further information, visit https://tuxpaint.org/. To learn how to contribute to Tux Paint, visit: https://tuxpaint.org/help/. You can also follow @TuxPaintTweets on Twitter.
###
---
Press Contacts
---
This version of Tux Paint was made possible by: Pere Pujal i Carabantes, Bill Kendrick, Mark K. Kim, & TOYAMA Shin-ichi; with localization updates by Miguel Bouzada, Hugo Carvalho, Jacques Chion, & Sveinn í Felli; and additional contributions from MD Ekramul Ansari, Jeff Davidson, Caroline Ford, & Easton Pillay.
Trademark Notices: Apple, & macOS are registered trademarks of Apple Inc. Flatpak is a registered trademark of GNOME Foundation. Android is a registered trademark of Google LLC. Linux is a registered trademark of Linus Torvalds. Microsoft, & Windows are registered trademarks of Microsoft Corp. Red Hat is a registered trademark of Red Hat, Inc. Unix is a registered trademark of The Open Group. Twitter is a registered trademark of Twitter, Inc.
Press Release by: Bill Kendrick & Melissa Hardenbrook.
---
URL for this press release: https://tuxpaint.org/latest/tuxpaint-0.9.27-press-release.php
---
---
Did you know? Penguins live almost exclusively in the southern hemisphere.