---
Tux Paint was reviewed in the June 2012 ("6 Essentials to Inspire Your Young Artist") issue of The Old Schoolhouse magazine.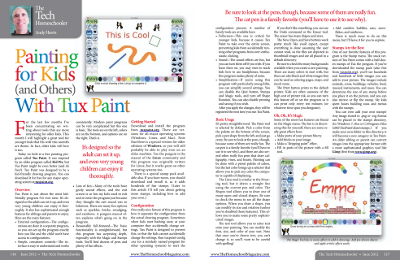 Painting for Kids (and Others) With Tux paint

Andy Harris, The Tech Homeschooler

...

Tux Paint is just about the most kid-friendly program I've ever seen. It's designed so the adult can set it up, and even very young children can enjoy it thoroughly. It also has sophisticated enough features for siblings and parents to enjoy.

...

One really nice feature of this program is how it separates the configuration from the actual drawing program. Sometimes when kids start bashing away at your computer they accidentally change settings. Tux Paint is designed to prevent this, so that the kids cannot accidentally change the settings.

...

One of our favorite features of this program is the Stamp menu. ... If you've downloaded the stamp pack (also free from tuxpaint.org), you'll see hundreds and hundreds of little images you can add to your picture. The images include animals, coins, buildings, vehicles, food, musical instruments, and more. You can determine the size of any stamp before you place it on the picture, and you can also mirror or flip the stamp. My kids spent hours building zoos and menus with the stamps.

...

I made stamps of each family member and installed them on our version. The kids have a blast making pictures of themselves, parents, and pets. It's also possible to add sound effects to stamps. Ambitious older kids can learn how to do this to customize their own version of the software.
---
---
Did you know? Tux Paint runs right on your computer, and doesn't require Internet access.