---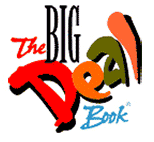 Tux Paint was listed in theSpring 2008 edition ofThe Big Deal Book of Technology for K-12 Educators. It was listed in the "Free and Inexpensive Finds" section.
The Big Deal Book's mission is to save educators "time and money while identifying top quality resources for schools and classrooms."
---
Tux Paint for children is free open source drawing software that has many of the sophisticated features you might expect to find only in expensive paint and graphics programs. Available for Mac, Linux and Windows, the robust software is intuitive and easy to use with many cool features. Hundreds of stamps can be resized, flipped or mirrored. The stamps can have text or sounds assigned to them. A colorful penguin character is the audio director of this delightful product for children from preschool through elementary school. The tools are user friendly, with libraries of brushes, stamps, lines, shapes, text and a specialized 'Magic' (special effects) category. The 'Magic' toolbox has more than a dozen features (such as fill, grass, brick fill, smudge and drip) that are engaging and motivating for student creativity. There is even a 'Cartoon Magic' tool that changes a drawing into a cartoon. The Thumbs Up and Thumbs Down icons allow for multiple redo and undo of art elements. Save is easy and lets students pull up different pictures from previous work to modify. Pictures can also be placed in a slideshow with transitions for presentations.

Plus: An Artist Gallery houses more than 500 pieces of art submitted by students and adults from around the world. Work can be submitted and posted in the gallery. Use is restricted to the Tux Paint Gallery unless the artist gives permission for artwork to be used by others. Submit Tux Paint art creations to bill@newbreedsoftware.com for posting in the Tux Paint Gallery. Only students' first names are posted.
---
---
Did you know? Tux Paint is named after Tux the penguin, the mascot of the Linux operating system. "Tux" is short for tuxedo.