PC Projects
Issue 2, September 2004
---
Tux Paint 0.9.13 for Windows was included on issue 2's DVD.
---
KIDS AND GAMES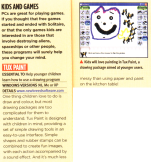 PCs are great for playing games. If you thought that free games started and ended with Solitaire, or that the only games kids are interested in are those that involve destroying aliens, spaceships or other people, these programs will surely help you change your mind.
Tux Paint
ESSENTIAL TO Help younger children learn how to use a drawing program.

WINDOWS VERSIONS 98, Me or XP

DETAILS www.newbreedsoftware.com

One thing children love to do is draw and colour, but most drawing packages are too complicated for them to understand. Tux Paint is designed with children in mind, providing a set of simple drawing tools in an easy-to-use interface. Simple shapes and rubber stamps can be combined to create fun images, with each action accompanied by a sound effect. And it's much less messy than using papre and paint on the kitchen table!
From the September 2004 issue, pages 26-27.
---
Tux Paint
Top painting action for children aged three years or older
Tux Paint is a fun drawing program that is aimed at kids aged three years and older. With the help of the friendly penguin mascot Tux, your kids will soon be producing their own impressive onscreen pictures -- much better than scribbling on the walls and carpet!

The program is dead easy to use with large, clear and colourful icons. However, parents should turn the PC's speakers off, or else Tux Paint's sound effects could very soon drive you round the bend.

To begin Tux Paint's installation process, agree to the software license and click Next in the subsequent screens. If you like everything in the next window, click Install and the installation is complete.
From the September 2004 issue, pages 122-123.
---
Thanks to John Popplewell for scanning the pages. Content copyright 2004 Dennis Publishing.
---
---
Did you know? Tux Paint is not shareware, it's open source. So it's free, forever!