---

---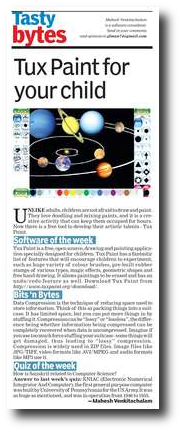 Tux Paint was chosen as "software of the week" in the "Tasty Bytes" education section of the May 26 issue of "The New Indian Express" newspaper, from southern India.
Unlike adults, children are not afraid to draw and paint.

They love doodling and mixing paints, and it is a creative activity that can keep them occupied for hours.

Now there is a free tool to develop their artistic talents - Tux Paint.

Software of the week Tux Paint is a free, open source, drawing and painting application specially designed for children. Tux Paint has a fantastic list of features that will encourage children to experiment, such as huge variety of colour brushes, pre-built rubber stamps of various types, magic effects, geometric shapes and free hand drawing.



by Mahesh Venkitachalam
---
---
Did you know? Tux Paint is not shareware, it's open source. So it's free, forever!