---
Kid's Digital Easel
New Life for Old Macs
By Christopher Breen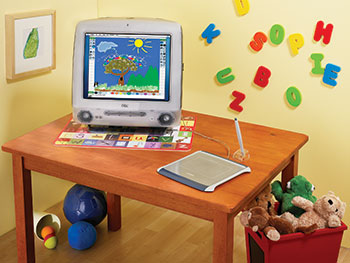 A Child's Art Station
Tux Paint provides hours
of entertainment for
youngsters
Photo by Peter Belanger
Does your five-year-old watch in fascination as you work with Photoshop? Encourage your child's interests by turning your retired Mac into a digital art station.
Prepping the Canvas
Small children often have trouble drawing with a mouse, so invest in a pen tablet such as Wacom's Graphire 4x5 [...] Use the Wacom Tablet preference pane to configure the device's behavior (for example, you might want to disable the pen's side button to prevent your child from accidentally pressing it).
When it comes to drawing, check out the open-source painting program Tux Paint. The program's art tools include a paintbrush a Stamp tool, and a Magic tool that lets pint-size scribblers apply textures like grass and sparkles.
...
---
See the complete article, "Kid's digital easel: New life for old Macs", in the April 2007 issue.
---
---
Did you know? You can help us translate Tux Paint to your language.