---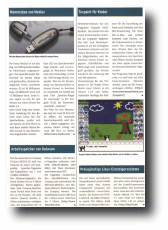 Tux Paint for Children
New Breed Software published Tux Paint, a program which accompanies children with their first artistic steps at the computer. The paint and draw program is reduced to the most important functions and the user interface is adapted to the capabilities and needs of small children. Buttons and tools are sufficiently large; the window is optimised for a resolution of 640x480.
The program requires SDL version 1.2.4 or higher. In addition the software needs Freetype for the display of the fonts and a SDL extension. The tools Doc-to-Man and Gettext are used to format the documentation. The user needs no knowledge about the operating system; all file operations such as save or open are performed using the simple user interface.
The program is available in the source code form and can be compiled on all Linux systems, providing that they meet the program's requirements.
Thanks to Carsten Ziepke for the scans and Mark Westcott for the updated translation. Thanks to Linux-Magazin for permission to reprint this article.
---
---
Did you know? Your school can install Tux Paint on all of its computers... today, and at no cost!