Easy Linux

November 2003
---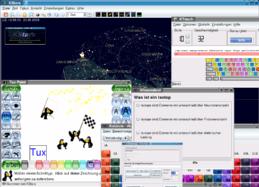 Linux on the school bench
Linux is not only for adults anymore: For some years projects like the KDE Edutainment Project, LinuxForKids, SEUL/edu, Tux4Kids or the Debian Jr. Project develop free software for large and small children. We show some programs, with which the Linux youngsters can easily learn to change to Linux.
[...]
Painting with Numbers
Tux Paint is a simple draw and painting program. It comes with relatively large and selfexplainatory buttons, so that also smaller children (starting from three years) can work with it. The program is incluede in SuSE Linux 8,2. [...]
You start the program with the K-menu [...] or with [Alt-F2] and input of 'tuxpaint'. The user interface is simple and easy to use. A small penguin helps during the operation and gives hints in the lower status line. Different sounds accompany the individual actions, so that the ears don't get a raw deal. Beside different brushes, colors, text tools and fixed forms there are many effects to discover. This can be found under the magic button. Apart from the well-known functions such as tricks and mirrors there is a kind of magic wand, with which one can conjure stars on the picture (illustration 2). It is particularly handy that the save function has its own opening dialog, which does not allow access to the remaining file system. the pictures are saved in the hidden directory tuxpaint/save in the own Home directory.
(Translated by Fabian Franz)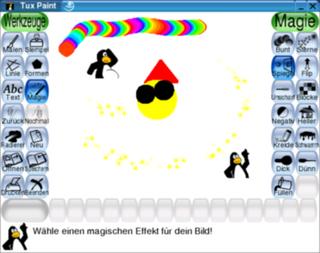 ---
From theNovember 2003 issue.
---
---
Did you know? Tux Paint runs right on your computer, and doesn't require Internet access.