Announcing Tux Paint 0.9.26
Free children's software adds new tools and accessibility options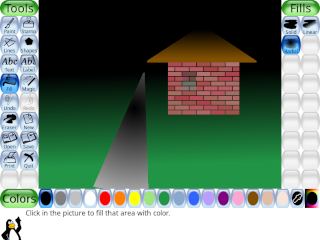 (Olympia, WA, USA — June 28, 2021; updated June 30, 2021) The Tux Paint development team is proud to announce Tux Paint version 0.9.26. The latest release of the award-winning drawing program for children offers more fun for everyone with new features and expanded accessibility options.
Tux Paint's Fill tool now offers options to fill an area with color gradients. The "Radial" fill creates a circular gradient centered around the mouse click, while the "Linear" fill allows the interactive creation of gradients at different angles and sizes.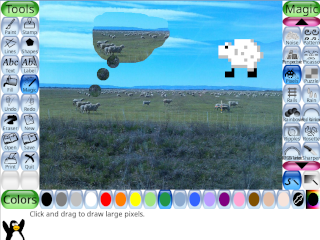 New Magic tools have been added to Tux Paint: "Pixels" makes it easier to create retro-gaming style pixel art, "Checkerboard" fills the entire canvas with a check pattern, and "Clone" allows duplicating parts of the picture via brush strokes.
Tux Paint's user documentation has been overhauled, making localization easier. Parties interested in helping with localization are encouraged to contact the Tux Paint team.
Finally, a new pair of accessibility options have been added. The entire user interface can now be enlarged benefiting users with impaired vision, and making the program more suitable to very high density displays. This feature, along with a new option to re-organize the color palette, can also be helpful to users of coarse input devices, such as eye-gaze tracking systems.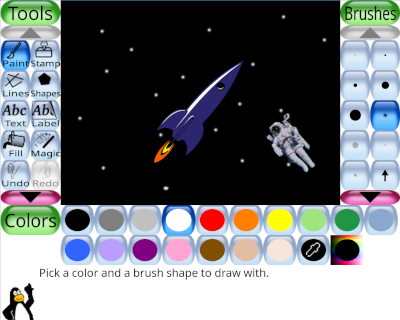 Tux Paint is available for download, free of charge, from the project's website: www.tuxpaint.org.
Version 0.9.26 is currently available for Microsoft Windows, Apple macOS, Android, various Linux distributions (via Flatpak), Red Hat Linux, and as source code.
For a complete list of changes, see the project's various "change logs":
For further information, visit www.tuxpaint.org. To learn how to contribute to the Tux Paint project, visit: www.tuxpaint.org/help. You can also follow @TuxPaintTweets on Twitter, and join the "TuxPaint" page on Facebook.
###
---
Press Contacts
---
Trademark Notices: Apple, & macOS are registered trademarks of Apple Inc. Facebook is a registered trademark of Facebook, Inc. Flatpak is a registered trademark of GNOME Foundation. Android is a registered trademark of Google LLC. Linux is a registered trademark of Linus Torvalds. Microsoft, & Windows are registered trademarks of Microsoft Corp. Red Hat is a registered trademark of Red Hat, Inc. Twitter is a registered trademark of Twitter, Inc.
Press Release by: Bill Kendrick
---
URL for this press release: http://www.tuxpaint.org/latest/tuxpaint-0.9.26-press-release.php
---
---
Did you know? You can help us translate Tux Paint to your language.