Conducted by Bill Kendrick. Posted July 6, 2023.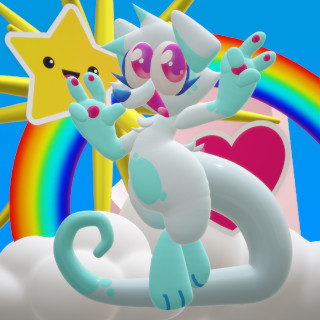 ---
About Léon
How old are you?

I'm 22

What do you do for a living?

I draw art commissions.

Do you have other artistic endeavors?

I make tunes and occasionally embroidery.

What are your other hobbies?

Video games and I recently got back into web design (HTML/CSS coding)

Where can people find you online?

From most active to less active:
---
Discovering and Using Tux Paint
How and when did you first learn about Tux Paint?

It was in a child-care centre in which I used to go after school, they made little activities using it. After that I remember I asked my dad to install it on the family desktop!

Did you stop using Tux Paint and come back to it later?

I used to think about it a lot, it never really left my mind and one day I asked myself "why don't I reinstall it??" And here we are now, Tux Paint is one of my main art programs!

How do you usually interact with Tux Paint?

I use the Huion Kamvas Studio 22, a big screen tablet computer.

What are your "go-to" tools in Tux Paint?

All the fill tools, the color-and-white magic tool was life saving when I discovered it, everything that does rainbows, I love rainbows :)

Is there something you wish Tux Paint could do that it can't?

The only thing I can think about is a proper zoom tool. Otherwise I love Tuxpaint as is, and every new feature added is happily welcomed.

(Note from Bill: Yes, we get asked about zoom a lot!)

What other kinds of art tools do you use?

On PC I also use Paint Tool SAI2 and MSPaint. I also draw on the Nintendo 3DS on an app called Colors!3D.

Do you ever edit your Tux Paint art in other drawing programs or vice-versa?

I sometimes edit my Tux Paint drawing on SAI2 to play with layer merging effects. But I always share both the original Tux Paint and the edited ones because both look very nice.

What tips or tricks would you like to share with other aspiring artists?

Draw for yourself and not for likes. Art is supposed to be a fun hobby, you don't have to learn the basics if you just want to have fun.

What piece of art, or other creation, are you most proud of?

I'm still very proud of this drawing I made a while ago

---
Style and Inspiration
What would you call your art style?

I tag it as kidcore even though I don't really think it totally is, I think I'd call my artstyle "Happy".

Are there certain topics or fandoms that you like to focus on in your art?

I draw mostly furries but I'm in some fandoms like Hollow Knight, My Little Pony and Sonic the Hedgehog.

What artists do you look up to?

Gummy Worm is an artist that inspired me a lot for my current artstyle. Also Tweegeemee which is a bot that generates abstact images; the generation process is explained on the site and very interesting.

What other things inspire you to make art?

I want to make people happy with my art. I get very motivated when I get comments of people saying my art makes them happy.

Have you ever published or exhibited your art

Some of my art is exhibited in the Tux Paint gallery ;)
---
---
---
Did you know? Adults enjoy Tux Paint, too!