Conducted by Bill Kendrick. Posted July 10, 2023.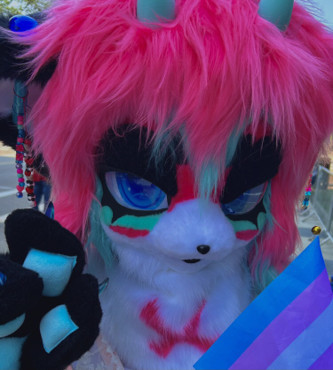 ---
About Koyo8899
How old are you?

Eighteen

What do you do for a living?

I'm between odd jobs, places, people. When things don't work, I make it work. I carve my own path out of hard dirt with a screwdriver for a living.

What are your other hobbies?

I'm fascinated by the world and everything it has to offer. I love art museums, classical art, performance art, reading and writing, fursuiting, conventions and parties and festivals, tagging and exploring to graffiti, and studying history, coding, religion, geography, so on... I do a lot! Other than making art, I enjoy studying languages, countries and flags the most.
---
---
Discovering and Using Tux Paint
How and when did you first learn about Tux Paint?

I'm not a veteran user like the rest. I grew up with Kid Pix. Back in early 2022, my followers on Twitter requested I try Tux Paint among other 'simple' art software, in a series of tests to show artists they shouldn't feel restricted by the materials they have access to. It's a point I've pushed for many years- what makes you an artist is your ability to create with what you're given. No one needs Photoshop or Copics. For years I've made full pieces with MS Paint, dAmuro, Crayola and highlighters, so on so forth. Tux Paint was a lovely addition to the list, people loved the works and I noticed a lot of my own followers hop onto using Tux too! I think its definitely part of the 'new wave' of artists working in it!

What are your "go-to" tools in Tux Paint?

Using any brush with <100% opacity (think the soft edge of an airbrush) creates new colors, which can be color-picked to create a large cohesive palette, rather than touching the color wheel at all. This is how I can 'paint' in any program, and in Tux!

Is there something you wish Tux Paint could do that it can't?

I think Tux Paint needs finer brush sizes. Implementing an option to change brush size, or simply adding in a new variation of tiny brushes (preferably with soft edges) would compensate for the lack of a zoom feature.

What other kinds of art tools do you use?

I usually work in Clip Studio Paint [v1] and Procreate. My favorite 'fun' programs for some brainwork are Yumeiro135, MS Paint, and of course Tux Paint. Traditionally, my go-to is markers if not watercolors.

What tips or tricks would you like to share with other aspiring artists?

To Tux Painters: This is a program fully capable of making rendered work, but not how full-interface software does. You have to find a method that works for you. If you find yourself frustrated with Tux's limitations, know there is a workaround and it is your job to use your creative mind to find it!

What piece of art, or other creation, are you most proud of?

It's so hard to choose, so I'll stick with a couple consistent ones of Ozzie from KAZEBED. Ricochet (2022) and Kid War (2023) are just personal favorites.

---
Style and Inspiration
Are there certain topics or fandoms that you like to focus on in your art?

For a year and a half, I've been working on my personal project KAZEBED. For a decade and a half, I ached with a hate for the countryside in northern Wyoming that gave me the foundation to write it. KAZEBED is my attempt to reconcile with that upbringing from a new older, worn out perspective. I paint to show how many stories unfold at once among a small town, among few people, among loose buildings. Dark mudded colors, emergency hotlines, churches, a vacancy, cops and cowboys, the ICU, fatherhood, piled cars, dirt dust sand and tar, private manufacturers, rabbits and rabbits and rabbits and a deep feeling of dread with a deeper feeling of hope and color inside it..! It's like magic to me!

What artists do you look up to?

I admire Sun Yuan and Peng Yu the most (honorarily Zhu Yu as well). I want my art to convey a message, to prod and provoke, to look beautiful but so disconcerting in atmosphere. I love rainbows and sparkles and making people uncomfortable. While I love visual arts like painting, and I myself do it, I don't draw much (if any) inspiration from it. Rather, performance art and shock art absolutely strike a fire within me, especially works deemed most controversial. I love it.

Have you ever published or exhibited your art

I made a selection of realistic works when I was 13-14, usually acrylics, sometimes charcoal. I have a painting on permanent exhibition in Wyoming while I've had a handful of pieces tour the state. However, I hated realism, but teachers and adults preferred me to do it more than my typical style. I quit realism as soon as I enrolled under a new art teacher. My first non-realistic piece that toured was a 2021 watercolor I was allowed to do freely to my own style and taste. It revived something in me that I thought was dead!
---
Wrap-up
If you could interview me, or someone else who works on the Tux Paint project, what would you ask us?

I feel like if I created a software like this, I couldn't help but be amazed at how it's spread. This is the first art program so many kids from all around ever see or use, and I think that's so special. This is the program people install! I wonder if you find that as special as I do!

Bill: Absolutely. And I feel honored to touch so many young artists' lives.
---
---
Did you know? Tux Paint runs right on your computer, and doesn't require Internet access.