Conducted by Bill Kendrick. Posted July 5, 2023.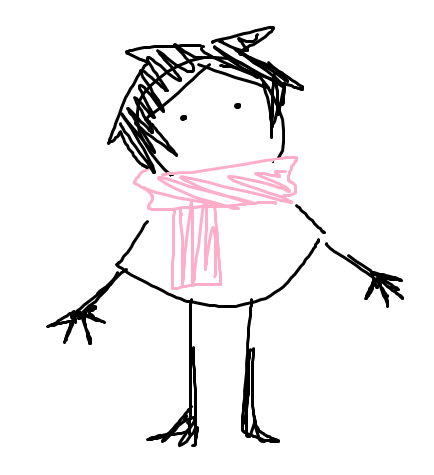 Ket, or C13H16ClNO
---
---
About Ket
How old are you?

A young adult (around there at time of writing)

Do you have other artistic endeavors?

A bit of composing music and writing.

What are your other hobbies?

Gaming and Science.

Where can people find you online?

I have a main twitter of @ket_overkill, though it's a mix of personal projects and art and whatever else I feel like posting.
---
Discovering and Using Tux Paint
How and when did you first learn about Tux Paint?

Admittedly I discovered it fairly recently (around 2022) when I was dissatisfied with how the UI of MSpaint in Windows 11 had been scrubbed down and modernized when I felt it was fine and not needing any change. I remember hearing around Tux Paint somewhere and hence I looked for it and gave it a try. I really enjoy the old and a bit janky UI with SFX from all the brushes. It's really reminiscent of Kid Pix which I recall using as a kid.

How do you usually interact with Tux Paint?

A mouse and a dingy Wacom CTH-480 I got for free from a friend.

What are your "go-to" tools in Tux Paint?

I am fairly basic so I mostly stick to the default brushes, the rounded ones.

Is there something you wish Tux Paint could do that it can't?

I wished that you could alter the canvas size freely like with MSpaint.

What other kinds of art tools do you use?

MSpaint and Firealpaca for digital art.

What tips or tricks would you like to share with other aspiring artists?

Like with any new art program, just try to play around with it for a while. You'll eventually find a workflow you enjoy doing in it.

What piece of art, or other creation, are you most proud of?

I have made one Friday Night Funkin mod called "V.S. Atlanta" that I am still pretty proud of.
---
Style and Inspiration
Are there certain topics or fandoms that you like to focus on in your art?

Animals! Mostly in Tux Paint, I find it harder to draw actual people in the program.

What artists do you look up to?

Mitsuki Sanagi's illustrations were very influential to me, especially when I saw them in some of See-kun's vocaloid PVs. Another artist I can point to having influenced my style is sean27emerald on DeviantArt. Those are the main 2 artists I can really point to (and remember) that I really look up to.
---
"Thank you for taking the time to interview me!! Tux Paint is really something special!!"
— Ket Overkill
---
---
Did you know? Your school can install Tux Paint on all of its computers... today, and at no cost!