Conducted by Bill Kendrick. Posted July 7, 2023.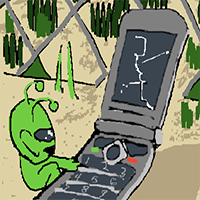 ---
Bill: Here is a video Jacob shared with me six years ago, which uses art and animations created in Tux Paint:
---
About Jacob
How old are you?

30 years old

What are your other hobbies?

Cooking.
---
Discovering and Using Tux Paint
How do you usually interact with Tux Paint?

Wacom tablet, mouse, trackpad.

What are your "go-to" tools in Tux Paint?

Square brushes, distortion, stretch, shift, smudge, drip, zoom, mirror, fisheye, chalk.

Is there something you wish Tux Paint could do that it can't?

The limitations are what makes it fun for me to use.

What other kinds of art tools do you use?

Do you ever edit your Tux Paint art in other drawing programs or vice-versa?

I create animations entirely within Tux Paint– in order to play them I run the image sequences in After Effects. I rarely edit them beyond what I have already done with the Magic tools in Tux Paint. Sometimes I animate more complex scenes in Photoshop and import an image sequence of the line work into Tux Paint, color and manipulate it and assemble the scene in After Effects.

When I first started using Tux Paint I didn't understand how to use the file system and I would just take a screenshot whenever I decided I had manipulated the image enough for it to be considered a new frame.




(Note from Bill: Hopefully the new single-picture and animated GIF export options help your workflow, too!)
---
Style and Inspiration
What would you call your art style?

Based freestyle animation.

Are there certain topics or fandoms that you like to focus on in your art?

Ape Escape

What artists do you look up to?

Bob Clampett, Eiichiro Oda, Art Tatum, Lil B, Peter Elloian, Ichabod. I look up to anyone who has a work ethic that defies common sense.

Have you ever published or exhibited your art

Yes, at a group show at 22 Ludlow in New York City. (2019)



(Note from Bill: Wow, that's awesome!)
---
Wrap-up
If you could interview me, or someone else who works on the Tux Paint project, what would you ask us?

What inspired you to create Tux Paint?

Bill: Around the time I started Tux Paint, I was writing a lot of games for Linux (both desktop, and Personal Digital Assistants (PDAs)), and around that time I spent a few years doing mobile game development. So when a friend asked if I knew of any kid-friendly art software for Linux, I decided to make something myself.
---
---
Did you know? Tux Paint is named after Tux the penguin, the mascot of the Linux operating system. "Tux" is short for tuxedo.