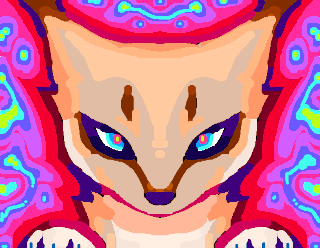 Messin' around in tuxpaint
By THOE
Tux Paint is a free, award-winning drawing program for children ages 3 to 12 (for example, preschool and K-6). Tux Paint is used in schools around the world as a computer literacy drawing activity. It combines an easy-to-use interface, fun sound effects, and an encouraging cartoon mascot who guides children as they use the program.
Kids are presented with a blank canvas and a variety of drawing tools to help them be creative. (See the full list of features.)
(Adults enjoy using Tux Paint too; both for nostalgia, and as a break from more complicated professional art tools. Also, Tux Paint has become popular for generating "glitch art", thanks to its numerous special effect tools.)
October 24, 2021
- Another minor bug-fix release for Windows 11, 10, 8, 7, and Vista has been posted, which should address a problem launching Tux Paint 0.9.26-1 through -5.
Download version 0.9.26-6 here.
September 30, 2021
- We've created a new gallery, showcasing some of the most fantastic art we've seen made using
Tux Paint
.
Check it out!
---
For macOS, Windows, Linux and more!
The latest version of Tux Paint runs on a variety of platforms, including Windows (XP and later), macOS (10.10 and later), Linux, Android, Haiku, and more. Older versions of Tux Paint have been released for a variety of other platforms, as well.

---
How Much Does It Cost?
Tux Paint is free of cost and free of advertisements. It is Open Source software, distributed under the terms of the GNU General Public License. It is developed by volunteers around the world. We work on it as a labor of love, with the hopes that people will find it useful, and in turn share it with their own friends and family.
Because Tux Paint (and other open source software) is free of cost and not limited in any way, a school can use it today, without waiting for procurement or a budget!
---
Download Tux Paint today, and enjoy!
---
Other Tux4Kids Software You Might Also Like:
---
---
Did you know? Penguins live almost exclusively in the southern hemisphere.