Announcing Tux Paint 0.9.16
New Breed Software Releases Update to Award-Winning Open Source Art Software for Children
[ English | Català | Français | Español | Japanese ]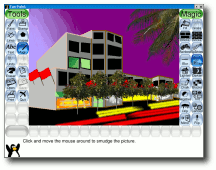 (Mountain View, CA — October 21, 2006) Today, New Breed Software announces the release of Tux Paint 0.9.16, the latest version of the award-winning Open Source drawing program for children.
Tux Paint 0.9.16 debuts exciting new features alongside a number of improvements to old favorites. A new simple-to-use Slideshow feature allows you to select your favorite works of art and play them back at various speeds. Slideshow will help teachers and students create classroom presentations, and can even be used to make simple flip-book style animations.


A new animated, directional brush
Tux Paint's paintbrush tool premieres two new additions. A brand new animated brush feature cycles through a sequence of images, covering your canvas in a trail of footprints or skittering squirrels. Also, new directional brushes which change shape depending on which direction you draw, allow for more natural-looking strokes.
Version 0.9.16 also boasts a number of minor improvements over previous Tux Paint releases, including stereo sound effects, round erasers, improved "magic" tools, new "Starter" images, improved international character support in the "Text" tool, expanded user documentation, the option to create alternative color palettes, and numerous bug fixes. Developers will also enjoy improved code modularity and portability.
Thanks to its global community of developers, Tux Paint 0.9.16 includes translations into Arabic, Faroese, Gujarati, Scottish Gaelic, Ndebele, Tagalog, Tibetan, Venda, Xhosa and South African English, bringing the total number of supported languages to 69.
For a complete list of changes, see the Tux Paint change log and Tux Paint Stamps change log.
Tux Paint runs natively on Microsoft Windows, Linux, Apple Mac OS X, Nokia 770 Internet tablets, Sharp Zaurus PDAs, Sun Solaris, NetBSD, FreeBSD and BeOS platforms. It can be downloaded free of charge from the Tux Paint website. For further information, visit: www.tuxpaint.org and www.newbreedsoftware.com
---
Press Contacts
North America
William Kendrick
2210 Rock St. #33
Mountain View, CA 94043
USA
Phone: (650) 691-0498
Email: bill@newbreedsoftware.com

South America
Gabriel Gazzán
Lozano 1090
Montevideo
Uruguay
Phone: (598-2) 309-1158

Asia
Muguntharaj
Malaysia
Email: mugunth@thamizha.com
---
Trademark Notices: Linux is a registered trademark of Linus Torvalds. Apple and Mac OS X are trademarks of Apple Computer, Inc. Microsoft and Windows are trademarks of Microsoft Corp. BeOS is a trademark of Be, Inc. Sharp and Zaurus are trademarks of Sharp Corporation. Nokia and Nokia 770 are trademarks of Nokia Corporation. Sun and Solaris are trademarks of Sun Microsystems, Inc.
Press Release by: William Kendrick and Melissa Hardenbrook
---
URL for this press release: http://www.tuxpaint.org/latest/tuxpaint-0.9.16-press-release-en.php