Worldlabel.com Tux Paint Kids Summer Drawing Contest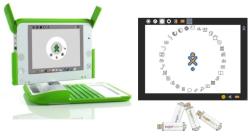 (Davis, CA & Peekskill, NY — June 29, 2011) - The developers of Tux Paint, the award-winning open source drawing application for children, are happy to announce the 2011 Tux Paint Summer Drawing Contest, sponsored and judged by Worldlabel.com.
Open to any child aged 3 to 12, the contest is a chance to win one of three OLPC XO-1 subnotebook computers, a USB-bootable version of the XO-1's "Sugar" environment ("Sugar-on-a-stick"), or a Tux Paint t-shirt.
Submissions are due by midnight, Eastern Standard Time (UTC-0500), on September 12, 2011. Ten (10) winners will be announced no later than September 22, 2011.
Rules
Open to children aged 3 to 12, anywhere in the world.
Only one entry per child.
All artwork must be the contestant's original work created using Tux Paint. 1
Submit the following, via email to worldlabel@gmail.com, by midnight EST, September 12:

Artist's name
Artist's age
Title of the drawing
Country where the artist lives
Attach the drawing as a PNG file 2

Entries will be judged on the quality and originality of the artwork.
Extra points will be given to drawings that tell a story.
All entries will be licensed Creative Commons Attribution-NonCommercial-NoDerivs 3.0 Unported 3 and will be exhibited at the Worldlabel.com blog.
Further details and eligibility requirements are posted in an announcement at Worldlabel.com's blog: http://blog.worldlabel.com/2011/tux-paint-kids-summer-drawing-contest.html.
Rules Notes:

1

Download Tux Paint from www.tuxpaint.org/download/.

2

http://tuxpaint.org/gallery/submit/#where briefly describes where Tux Paint stores its saved drawings.

3

http://creativecommons.org/licenses/by-nc-nd/3.0 describes the Creative Commons license that will be used.
---
About Tux Paint
Tux Paint, along with Tux, of Math Command (TuxMath) and Tux Typing, is part of the Tux4Kids project. It is an award-winning Open Source drawing program aimed at children aged 3 to 12 years old. Tux Paint is available for Microsoft Windows, Linux, Apple Mac OS X, BeOS and other platforms, and has been translated to over 80 languages. It can be downloaded free of charge from the Tux Paint website, or purchased on CDROM from CafePress.

For further information, visit: www.tuxpaint.org and www.tux4kids.com, or contact Tux Paint's lead developer, Bill Kendrick.
About Worldlabel.Com
Worldlabel.Com Incorporated is a leading manufacturer and internet supplier of labels for laser and inkjet printers for all your label needs. Their Blank Label Sheets for multifunctional labeling applications including address, mailing, shipping, CD and media labeling, as well as general business office labeling requirements. Their labels are designed to format with label templates you are currently using in your popular label software and templates sizes, Windows®, Mac® and Linux programs.

For further information, visit www.worldlabel.com and blog.worldlabel.com.
---
URL for this press release: http://tuxpaint.org/latest/worldlabel.com-tuxpaint-kids-summer-drawing-contest-2011.php