Announcing Tux Paint 0.9.25
Free childrens software adds animated GIF export and more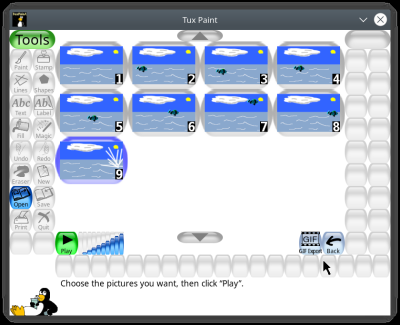 (Olympia, WA, USA — December 30, 2020) The Tux Paint development team is happy to announce Tux Paint version 0.9.25, the latest release of the popular and award-winning drawing program for children.
A major improvement has been made to the Shapes tool, which now provides options to choose whether shapes are drawn from the center or a corner, making it easier to use in any situation.
The on-screen keyboard, an accessibility feature optionally available when using the Text and Label tools, now appears larger on bigger displays; helpful for users of coarser input devices, such as eye-tracking systems.
The Eraser tool adds new, smaller eraser sizes, and applies smoother, contiguous strokes when the pointer is moved quickly.
Finally, this newest version adds options to export individual drawings and GIF animations, making it easy to share pictures, cartoons, and slideshows with others.
Tux Paint is available for download, free of charge, from the project's website: www.tuxpaint.org.
Version 0.9.25 is currently available for Microsoft Windows, Apple macOS, Android, Red Hat Linux, Haiku, and as source-code.
For a complete list of changes, see the Tux Paint change log, Tux Paint Config. change log, and Tux Paint Stamps change log.
For further information, visit www.tuxpaint.org. To learn how to contribute to the Tux Paint project, visit: www.tuxpaint.org/help. You can also follow @TuxPaintTweets on Twitter, and join the "TuxPaint" page on Facebook.
###
---
Press Contacts
---
Trademark Notices: Apple, and macOS are registered trademarks of Apple Inc. Facebook is a registered trademark of Facebook, Inc. Android is a registered trademark of Google LLC. Haiku is a registered trademark of Haiku, Inc. Linux is a registered trademark of Linus Torvalds. Microsoft, and Windows are registered trademarks of Microsoft Corp. Red Hat is a registered trademark of Red Hat, Inc. Twitter is a registered trademark of Twitter, Inc.
Press Release by: Bill Kendrick
---
URL for this press release: http://www.tuxpaint.org/latest/tuxpaint-0.9.25-press-release-en.php