Announcing Tux Paint 0.9.17
New Breed Software Releases Update to Award-Winning Open Source Art Software for Children
[ English | Español | Italiano | Japanese | Российская ]
(Davis, CA — July 1, 2007) Five years after the debut of its award-winning Open Source drawing program for children, New Breed Software is happy to announce the release of Tux Paint 0.9.17.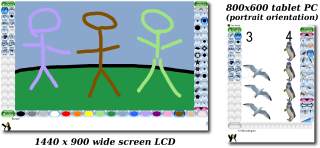 Tux Paint supports practically any screen size and orientation
Tux Paint 0.9.17 offers many exciting innovations alongside improvements to favorite features, including new stamps, new brushes for the Paint and Line tools, and support for a wider variety of screen resolutions and orientations — great for use with wide-screen LCD monitors and tablet PCs.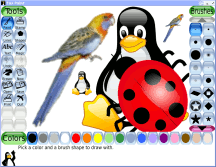 SVG vector graphic support and scaled bitmap stamps
Tux Paint's well-loved Stamp tool is now cleaner, more flexible, and easier to use than ever. The addition of a smoothing filter minimizes pixelation when photographic stamps are scaled up, while newly added support for the Scalable Vector Graphics file format allows for byte-thrifty stamps that can scale up without any pixelation or blurring at all. Lastly, the constantly growing collection of stamps is now separated into categories (plants, animals, holidays, and so forth) for easier navigation.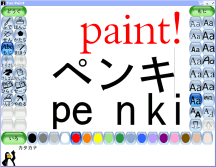 Entering Japanese characters
Also, Tux Paint 0.9.17 proudly debuts the new Input Method feature, which allows users to input non-Latin characters with the Text tool. Currently, supported languages include Japanese (both Romanized Hiragana and Romanized Katakana) and Korean (the common Hangul 2-Bul method).
And as always, Tux Paint continues to learn new languages thanks to its global community of developers. Tux Paint 0.9.17 now supports more than 70 languages, with new translations into Latvian, Telugu, and Twi, in addition to updates in more than a dozen others.
For a complete list of changes, see the Tux Paint change log, Tux Paint Config. change log and Tux Paint Stamps change log.
Tux Paint 0.9.17 is available immediately for Microsoft Windows, Apple Mac OS X and Linux, and is available for download free of charge from the Tux Paint website. For further information, visit: www.tuxpaint.org and www.newbreedsoftware.com
---
Press Contacts
North America
William Kendrick
Davis, CA
USA
Phone: (650) 793-3214
Email: bill@newbreedsoftware.com

South America
Gabriel Gazzán
Lozano 1090
Montevideo
Uruguay
Phone: (598-2) 309-1158

Asia
Muguntharaj
Malaysia
Email: mugunth@thamizha.com
---
Trademark Notices: Linux is a registered trademark of Linus Torvalds. Apple and Mac OS X are trademarks of Apple Computer, Inc. Microsoft and Windows are trademarks of Microsoft Corp. BeOS is a trademark of Be, Inc. Sharp and Zaurus are trademarks of Sharp Corporation. Nokia and Nokia 770 are trademarks of Nokia Corporation. Sun and Solaris are trademarks of Sun Microsystems, Inc.
Press Release by: William Kendrick and Melissa Hardenbrook
---
URL for this press release: http://www.tuxpaint.org/latest/tuxpaint-0.9.17-press-release-en.php