"Tux Paint Day" 2011 — Fans encouraged to share Tux Paint on social networks

(Davis, CA — June 16, 2011) - Today marks the 9th anniversary of the first release of Tux Paint, the award-winning open source drawing software for children. Also this month, Tux Paint was chosen as Project of the Month at SourceForge.net. To celebrate, fans of the software are encouraged to share Tux Paint with their friends and family.
Using social networks like Twitter and Facebook is a quick and easy way to spread the word about something you enjoy. By posting a quick tweet or status update mentioning Tux Paint, friends and relatives who might not have heard of it yet will become informed; and since Tux Paint is completely free, they'll be likely to try it out and become fans themselves.
Another fun way of spreading the word about Tux Paint is to share your or your child's favorite drawing on Facebook, Flickr and Twitter. (This page briefly explains where Tux Paint stores its files.)
Tagging your photo with the keyword "tuxpaint" will help others find related posts. On Flickr, just use with the keyword "tuxpaint"; on Twitter, use the 'hashtag' "#tuxpaint".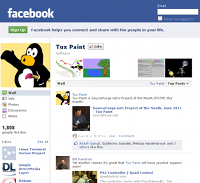 Tux Paint fans are also encouraged to "Like" the Tux Paint page on Facebook: facebook.com/TuxPaint, and while there, post a note on the wall, or even upload a drawing made in Tux Paint.
As a completely volunteer-driven project, the developers of Tux Paint are thankful for the countless fans around the world who use and enjoy the fruits of their efforts, and send thanks in advance for helping celebrate the project's birthday.
---
Social Network Sharing Links
---
About Tux Paint
Tux Paint, along with Tux, of Math Command (TuxMath) and Tux Typing, is part of the Tux4Kids project. It is an award-winning Open Source drawing program aimed at children aged 3 to 12 years old. Tux Paint is available for Microsoft Windows, Linux, Apple Mac OS X, BeOS and other platforms, and has been translated to over 80 languages. It can be downloaded free of charge from the Tux Paint website, or purchased on CDROM from CafePress.

For further information, visit: www.tuxpaint.org and www.tux4kids.com, or contact Tux Paint's lead developer, Bill Kendrick.
---
URL for this press release: http://www.tuxpaint.org/latest/tuxpaint-day-june-2011.php