Announcing Tux Paint 0.9.18
Update to Award-Winning Open Source Children's Art Software Adds Programmable Plug-in Support
(Davis, CA — November 21, 2007) New Breed Software is proud to announce the release of version 0.9.18 of Tux Paint, the Open Source drawing program for children.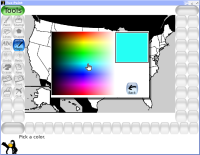 Over 50,000 colors are now a click away.
Tux Paint 0.9.18's color palette now includes a rainbow-colored button which brings up a color picker. The colors available for painting have expanded from less than twenty to over 50,000! And now, pictures can have any solid-colored background. The background colors — along with the "Starter" template images that ship with Tux Paint (which previously appeared in the "Open" dialog) — are available from a dialog that now appears when starting fresh via the "New" button.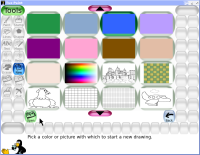 Drawings can have any background color; 'Starter' templates have been moved from the 'Open' dialog.
"Magic" tools, the special effects in Tux Paint (such as blur, smudge and grass), have been removed from the core of Tux Paint and made into "plug-ins" which are loaded into Tux Paint when it is launched. A programming interface has been developed and documented, allowing anyone to easily write new "Magic" tools for Tux Paint. One goal of this new capability is to turn Tux Paint into a platform for teaching computer graphics programming to novice programmers, such as high school students.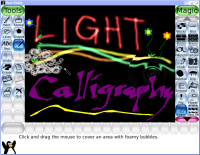 Many more Magic tools have been added.
Writing new "Magic" tools for Tux Paint is now so much easier, a dozen new ones have been added, including a calligraphy brush that changes thickness depending on how fast you stroke, fun tools for adding flowers, foamy bubbles, and water ripples to pictures, a kaleidoscopic paint brush for drawing symmetric artwork, and a drawing tool that colors additively (like beams of light), rather than subtractively (like paint).

The powerful Pango text rendering system is now used on systems that support it, providing vastly improved display of complex languages such as Arabic and Telugu. This version also introduces translations to Esperanto, Ojibway and Wolof languages. Following up the previous release's debut of "Input Method" support, the latest version adds support for entering text in Thai and Traditional Chinese.
For a complete list of changes, see the Tux Paint change log, Tux Paint Config. change log and Tux Paint Stamps change log.
Tux Paint 0.9.18 is available immediately for Microsoft Windows Vista, XP and 2000, PowerPC-based Apple Mac OS X systems, Fedora Linux, and as source-code. Versions for Intel Macs and older versions of Windows follow in the coming weeks.
Tux Paint is available for download free of charge from the project's website. For further information, visit: www.tuxpaint.org and www.newbreedsoftware.com.
---
Call for Contributors
The Tux Paint project is always looking for volunteers who can help expand and improve the capabilities of the software, including:
Translators — to add new languages, and update and edit existing translations
Writers & editors — to improve the usability of the documentation and website to make them as accessible as possible for busy parents and teachers
Programmers — to help fix bugs, improve existing features, and add new features (such as new "Magic" tools)
Artists & photographers — to create new raster- and vector-based content to be included with Tux Paint as "Stamp" objects and "Starter" template imagery
Educators — to provide feedback on how Tux Paint can be improved to suit the needs of classrooms, and to help create curricula that utilizes Tux Paint
Promoters — to help get the word out to schools and parents
To learn how you can help, visit: www.tuxpaint.org/help.
---
Press Contacts
North America
William Kendrick
Davis, CA
USA
Phone: (650) 793-3214
Email: bill@newbreedsoftware.com

South America
Gabriel Gazzán
Lozano 1090
Montevideo
Uruguay
Phone: (598-2) 309-1158

Asia
Muguntharaj
Malaysia
Email: mugunth@thamizha.com
---
Trademark Notices: Linux is a registered trademark of Linus Torvalds. Apple and Mac OS X are trademarks of Apple Computer, Inc. Microsoft, Windows, XP and Vista are trademarks of Microsoft Corp.
Press Release by: William Kendrick
---
URL for this press release: http://www.tuxpaint.org/latest/tuxpaint-0.9.18-press-release-en.php