Tux Paint Project Calls for Contributions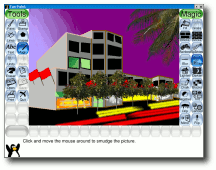 (Mountain View, CA — January 15, 2007) The Tux Paint project is seeking contributions of new content to be included in the next release of their award-winning Open Source drawing software for children.
Volunteers with skills in photography, image manipulation and drawing are sought to help expand Tux Paint's collection of "rubber stamp" imagery (pre-drawn and photorealistic objects that can be placed in drawings [example]) and coloring-book-style "starter" templates (scenes which can be colored and stamped upon [example]).
Volunteers needed:
Photographers

A wide range of imagery is still needed in Tux Paint — plants, animals, every day objects, food, vehicles, sports equipment, etc. In most cases, using a photograph is the quickest and easiest way to get a high-quality "rubber stamp." The project is looking for photographers willing to donate new or existing content to the Tux Paint project, under a license compatible with Tux Paint's own, the GNU General Public License (GPL).

Artists

Pre-drawn, cartoon-style content is also prevalent within Tux Paint's current "stamp" and "starter" collections. And with the program's forthcoming support for Scalable Vector Graphics (SVG) images, creating this style of content has become even easier.

Open Source vector graphics editors such as Karbon14, Inkscape and Xara Xtreme, and commercial ones like Adobe Illustrator and CorelDRAW, may be used to create SVG imagery, and Open Source raster graphics tools such as The GIMP and OpenOffice.org Draw, and commercial ones like Paint Shop Pro and Photoshop, may be used to create bitmapped PNG formatted files.

Collection Browsers

With the Internet's growing collection of freely-redistributable content available under Open Source-compatible licenses such as those defined by the Free Software Foundation and Creative Commons (e.g., imagery found at the Open Clip Art Library, in the Wikipedia online encyclopedia and on its sister site, WikiMedia Commons, and on photo sharing sites such as Flickr and openphoto.net)), volunteers are needed to find and collect existing photographs and drawings that are both appropriate for inclusion within Tux Paint, and compatible with its license.

Image Extractors

Finally, volunteers will be needed for the final process of preparing new content for use in Tux Paint: extracting photographed objects from their backgrounds. (The GIMP's new Simple Interactive Object Extraction (SIOX) plug-in could be utilized.)
---
How to Contribute
Contributors and volunteers can contact Bill Kendrick, lead developer and project manager of Tux Paint, via e-mail at bill@newbreedsoftware.com.

Those interested in participating in the Tux Paint project are also encouraged to subscribe to an appropriate TuxPaint.org mailing list. Serious contributors may contact Mr. Kendrick to request privileged access to the project's developmental source-code repository at the SourceForge.net software collaboration site. (A SourceForge.net account is necessary.)
---
About Tux Paint
Tux Paint is an award-winning Open Source drawing program aimed at children aged 3 to 12 years old. It runs natively on Microsoft Windows, Linux, Apple Mac OS X, Nokia 770 Internet tablets, Sharp Zaurus PDAs, Sun Solaris, NetBSD, FreeBSD and BeOS platforms, and has been translated to nearly 70 languages. It can be downloaded free of charge from the Tux Paint website. For further information, visit: www.tuxpaint.org and www.newbreedsoftware.com
---
Press Contacts
North America
William Kendrick
2210 Rock St. #33
Mountain View, CA 94043
USA
Phone: (650) 691-0498
Email: bill@newbreedsoftware.com

South America
Gabriel Gazzán
Lozano 1090
Montevideo
Uruguay
Phone: (598-2) 309-1158

Asia
Muguntharaj
Malaysia
Email: mugunth@thamizha.com
---
Trademark Notices:
Linux is a registered trademark of Linus Torvalds. Apple and Mac OS X are trademarks of Apple Computer, Inc. Microsoft and Windows are trademarks of Microsoft Corp. BeOS is a trademark of Be, Inc. Sharp and Zaurus are trademarks of Sharp Corporation. Nokia and Nokia 770 are trademarks of Nokia Corporation. Sun and Solaris are trademarks of Sun Microsystems, Inc.

Press Release by William Kendrick.
---
URL for this press release: http://www.tuxpaint.org/latest/call-for-contributors-200701.php